Success is measured by results, so here are some recent campaign successes from our diverse client portfolio.
---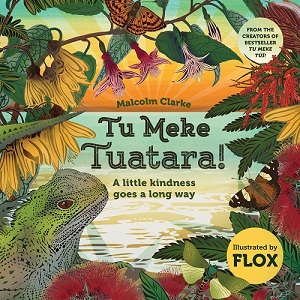 In 2020, our team of five million learned that a little kindness goes a long way. Capturing the mood of contemporary Aotearoa New Zealand, Tu Meke Tuatara! is a story about showing kindness, empathy and friendship, as well as doing your bit to save the environment.  Visually striking, Flox's bold and
colourful illustrations leap from the pages, and author Malcolm Clarke's storytelling skills are second to none.  Here's a short summary of media coverage secured: Maori TV, TV THREE The Cafe (March 2021), RNZ Nine to Noon, Weekend Herald Canvas, Thrive magazine, Magpies, The Parenting Place, The Sapling, KidsBooksNZ, Poetry Box, Kete Books, ReadNZ, Vetscript.
---
The sublime work of wildlife artist Nicolas Dillon was a joy to promote.  His work jumps from the page and runs in tandem with a fascinating narrative about Nic's artistic process.  Thornton Communications courted a wide cross-section of media, focusing attention on arts, books and natural world.  Widespread media coverage was achieved, including: RNZ Standing Room Only, Stuff, Artzone, Backcountry magazine, Good magazine, Verve magazine, Forest & Bird, Birds New Zealand, Kete Books, NZ Booklovers, Radio Southland, Arrow FM.
---
In the spirit of Laurie Lee's As I Walked Out One Midsummer Morning, Dougal Rillstone's memoir is a lyrical mediation on landscape and moving water, with angling at its heart.  I absolutely loved this book and Dougal was a delight to work alongside.  Happily, Thornton Communications gained great media traction, including interview, feature and extract coverage with RNZ Sunday Morning, Magic Talk, Radio Southland, Country TV, Stuff, The Spinoff, Otago Daily Times, The Southland Times, Wilderness magazine, Backcountry magazine, Fishing and Outdoors, Trout Fisher, New Zealand Fishing News, Wild Tomato magazine, GrownUps.
---
Media Releases