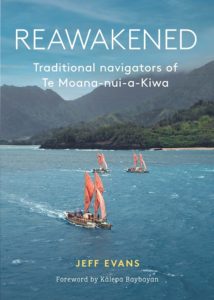 MEDIA RELEASE
Reawakened: Traditional navigators of Te Moana-nui-a-Kiwa
JEFF EVANS
Published by Massey University Press, June 2021, RRP: $39.99 
The renewal of traditional wayfinding skills and the remarkable stories of ten master navigators come together in Reawakened: Traditional navigators of Te Moana-nui-a-Kiwa by Jeff Evans published today, June 10, 2021, by Massey University Press.
Evans's book features fascinating interviews with ten legends of ocean voyaging. Through them, we learn how traditional knowledge, science, passion, stamina and strength underpins every voyage. Significantly, their stories dovetail with the rewriting of history about the exploration and settlement of the eastern Pacific. Now accepted as deliberate, it is one of the greatest feats of navigation in human history.
Each of the ten navigators featured in the book had the Micronesian rank of Pwo, or master navigator, conferred on them by the legendary Satawal navigator Mau Piailug. It was Mau's deep knowledge of traditional, non-instrument wayfinding methods for
open-ocean voyaging that inspired contemporary Polynesians to connect with their ancestors and forge a sustainable path for their descendants. Pwo navigators are more than just navigators on the oceans, they are leaders in their communities and an inspiration for future generations.
The master navigators profiled include the late Sir Hec Busby, Jack Thatcher and Piripi Evans from Aotearoa New Zealand; Peia Patai and Tua Pittman from the Cook Islands; and Nainoa Thompson, Shorty Bertelmann, Kālepa Baybayan, 'Onohi Paishon
and Bruce Blankenfeld from Hawai`i.
The New Zealand royalties from sales of Reawakened: Traditional navigators of Te Moana-nui-a-Kiwa will go to support the work of Te Tai Tokerau Tārai Waka Inc.
Tārai Waka was formed in the late 1980s as part of its programme to develop kaupapa waka. Tārai Waka provides practical training in waka construction, sailing and traditional navigation. For more visit: Te Aurere Voyaging — http://teaurere.org. nz/index.html.
ABOUT THE AUTHOR
Jeff Evans is a writer and photographer based in Auckland. He has written several books relating to waka, including Ngā Waka o Neherā, Polynesian Navigation and the Discovery of New Zealand and Waka Taua: The Maori War Canoe. Between them, these books recall Māori migration traditions, describe navigation skills used by Māori to voyage between the islands in the central Pacific and New Zealand, and introduce the reader to waka taua. Jeff's most recent book was Heke-nukumai-nga-iwi Busby: Not Here by Chance (Huia, 2015). In 2020 he was awarded a summer residency at the Michael King Writer's Centre to work on this book.