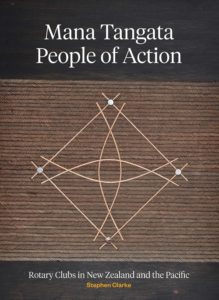 MEDIA RELEASE
Mana Tangata: People of Action
STEPHEN CLARKE
Published by Rotary, May 12, 2021, RRP: $69.95
Rotary arrived in New Zealand in June 1921, on a wave of post-war optimism and hope for a better world. By the end of the 1920s, there was a club in almost every major town and
communities were being enriched by People of Action – Rotarians who served with commitment and aroha.
Rotary celebrates its New Zealand centenary and 85 years in the Pacific with the publication of Mana Tangata: People of Action
on May 12. Rotary has also created two major projects for New Zealand Rotarians: Rotary Give Every Child A Future (vaccination programme) and Rotary 100 Forests of Peace and Remembrance (planting native trees.) See Editor's Notes below for more.
In honour of their milestone anniversary, Auckland's Sky Tower will be lit in Rotary's signature colours of blue and gold on the evening of June 13, 2021.
Founded in Chicago in 1905 on principles of fellowship and the spirit of Rotary has always been 'Service Above Self.' Collectively, Rotarians have sought to empower communities, particularly youth, by giving them a hand up, rather than a hand-out. Millions of people from all over the world have benefitted from Rotary's 'deep pockets' and commitment to service.
Mana Tangata: People of Action by noted historian Dr Stephen Clarke, brings to light Rotary Oceania's extraordinary record of endeavour and philanthropy. Among its long history of community service are some remarkable achievements, not least Rotary's gold standard work to eradicate polio and the establishment of Cure Kids in New Zealand. Rotary has also championed
and poured millions of dollars into environmental causes, healthcare, youth development organisations, disaster relief and civic amenities.
Since the first New Zealand clubs were founded in Auckland and Wellington in 1921, Rotarians have been enterprising, creative and hard-working. There are more than 250 clubs all over New Zealand, although in recent years Rotary, like many community organisations, has faced declining membership as people's lives have become busier. Rotary now faces two major new challenges: attracting new members and transforming itself into a modern organisation – one which is diverse, inclusive and relevant to the next generation.
One individual who has helped to bridge the gap and create a modern partnership between Rotary and Māori is John Heremia Mohi (Te Whānauā-Apanui). During the past 25 years, Mohi has promoted the use of te reo Māori and tikanga Māori within Rotary. Mohi is the Chair of the Mana Tangata history project to mark the centennial of Rotary in New Zealand and the Pacific Islands.
'Mana Tangata: People of Action highlights the changing social needs of New Zealand over the past century and shows how Rotary responded impressively with imagination and hard work,' says acclaimed historian Jock Phillips.
Mana Tangata: People of Action is a richly illustrated and lively history. Throughout the book, Dr Stephen Clarke reveals Rotary as an organisation reflecting on its past and place in society, so it can continue to play a meaningful role in the future. Expansive and engaging it is also a call to action – to place service above self for the common good.
ABOUT THE AUTHOR
Dr Stephen Clarke is a history graduate of the University of Otago and the University of New South Wales with a longstanding interest in the social history of Aotearoa New Zealand. After two years as Historian with the Ministry for Culture and Heritage, he joined the Royal New Zealand Returned and Services Association in 2001. As chief executive he led the strategic transformation and rebrand of the RSA between 2008 and 2013, and later wrote After the War: The RSA in New Zealand. He is an independent historian and founding director of Making History Ltd.
NOTES TO EDITORS
Rotary was founded in Chicago in 1905 and was the first service club organisation in the world. Throughout the world, Rotary operates in more than 200 countries and has about 1.2 million members. Rotary International comprises 35,742 clubs and 1,212,416 members in over 220 countries. Rotary New Zealand/Pacific comprises: 255 clubs and 7281 members.
Rotary Give Every Child A Future is a combined Australian and New Zealand Rotary centenary programme, in partnership with UNICEF, to save lives by vaccinating 100,000 children in nine Pacific Island countries against three diseases, and to establish sustainable vaccination programmes in each country.
The Rotary 100 Forests of Peace and Remembrance initiative is a partnership with Te Uru Rākau Forestry New Zealand and the One Billion Trees Fund. At its heart is the power of harnessing communities and volunteers at all ages to enhance the environment by planting native trees as living memorials, including in commemoration of past Defence Force members, post-First World War influenza victims, and other significant New Zealanders and events.