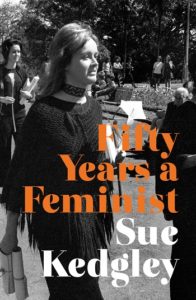 MEDIA RELEASE
Fifty Years a Feminist
SUE KEDGLEY
PUBLISHED BY MASSEY UNIVERSITY PRESS, 13 May 2021, RRP $39.99
A frank and spirited autobiography by Sue Kedgley, proudly published by Massey University Press on May 13, tracks the development of feminism in New Zealand over the last five decades, its intersection with Kedgley's own life and asks where to from here.
Sue Kedgley came to public attention in the early 1970s, as an early, outspoken women's liberationist for feminism. She might be best known for helping bring Germaine Greer to New Zealand. Back then, stroppy young feminists were on a roll, and the end of the patriarchal society that prevented women from reaching their full potential seemed within their grasp. All too soon, however, the movement disintegrated in a savage shattering of solidarity and unity. Kedgley headed for New York to attend the first ever global women's liberation conference and went on to carve out a stellar career at the UN, which included helping organise two global women's conferences, before coming home to a career in broadcasting, late motherhood and politics. Her rich life has included encounters with Betty Friedan, Yoko Ono, Kofi Annan (whom she dated), Sonja Davies and the Dalai Lama.
Her personal experience of the battles women have had to fight includes fending off the sexual advances of male students at university, sexual assault by an entertainment industry mogul and discrimination and pay inequity in the workforce. Later in life, when she was a crusading Green MP, the sexist jibes kept coming.
Fifty Years A Feminist shares lessons drawn from her 50 years at the feminist coalface, not least that social change does not come easily, and that significant change can only happen through collective effort and large-scale social activism. Despite all the progress that has been made towards equality between the sexes, Kedgley argues, we still live in a culture of male privilege, sexism, pay disparity and violence against women, and women still have to contend with deep-seated, misogynistic attitudes and behaviours that are proving remarkably resistant to change.
Even so, she argues, feminism has improved women's lives in many ways. Fifty years ago, New Zealand women were treated like a servant class to the male population, expected to confine their lives to child rearing and domestic duties. Now, women have
entered almost every sphere of national life, even if many still pay a high price for their success.
Kedgley argues that we need to pick up the pace. A male-dominated system has made a mess of the world; it is women's turn
now to help solve the daunting problems that confront the planet. If we are to create a saner, safer and more balanced world, she
argues, women will need to be at the decision-making table wherever decisions are made, and men will need to step up and take
a lead in questioning outdated stereotypes of masculinity and creating a culture where male violence is no longer tolerated.
ABOUT THE AUTHOR
Sue Kedgley founded Auckland University women's liberation and the National Organisation for Women (NOW). Thereafter, she continued to further the cause of women through her work at the United Nations, as a broadcaster and author. Kedgley has served as a local body politician and was later elected to Parliament as a Green Party MP. She is a board member of Consumer NZ and the Wellington District Health Board, was awarded a 2016 Women of Influence award, a 2019 Women in Governance award and was made an Officer of the New Zealand Order of Merit (ONZM) in 2019.