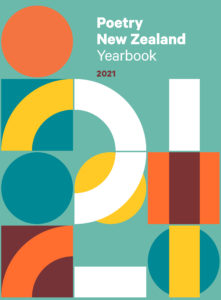 Media Release
POETRY YEARBOOK NEW ZEALAND 2021
Edited by Tracey Slaughter
Published by Massey University Press, 11 March 2021, RRP: $40.00
It holds an admirable and venerable position in our literary landscape — still going strong after seventy years, the 2021 edition of the annual Poetry New Zealand Yearbook arrives in March with a splash. Inside this bumper issue, #55, there are 180 brand new poems, reviews of recent poetry collections and essays — all in all, 408 pages, making it the biggest Yearbook ever.
Curated this year, and for the first time, by award-winning poet Dr Tracey Slaughter, Yearbook 2021 showcases the work of over 120 poets from all over Aotearoa New Zealand. For many years the Yearbook has also concentrated on a featured poet, who for 2021 is Aimee-Jane Anderson-O'Connor.
In her compelling introduction, Tracey Slaughter observes how Covid-19 forms the background to so many of the poems. 'Poetry made different things of the silence that fell inside our lives this year,' she writes. 'Our homes became the frontline, and no two dispatches from that place will ever strike identical notes. The sounds we made were as personal as our skins, as divergent as our losses, as plural as our yearning.'
Among the line-up of both new poets and established names are John Allison, Stephanie Christie, Michele Leggott, Wes Lee, Elizabeth Morton, David Eggleton, Johanna Emeney, Bob Orr, Kiri Piahana-Wong and essa may ranapiri. As ever, poems by the winners of both the Poetry New Zealand Poetry Prize (won this year by Elizabeth Morton), and the Poetry New Zealand Student
Poetry Competition (won by Pippi Jean of Takapuna Grammar School in Auckland, Cadence Chung of Wellington High School and Darcy Monteath of Logan Park High School in Dunedin) are included.
From its vibrant cover, designed as in previous years by Jo Bailey, to its comprehensive poet biographies, Yearbook 2021 is a must-have on bookshelves, a generous survey of the energetic poetry scene of Aotearoa.
Massey University Press is grateful to the University of Waikato for providing funding to support the publication of Poetry New Zealand Yearbook 2021.
Dr Tracey Slaughter is a poet and short story writer. She is the author of five books, including: Conventional Weapons (Victoria University Press, 2019) and the award-winning novella if there is no shelter (Ad Hoc, 2020). She has been widely anthologised and has received numerous awards, including the international Bridport Prize (2014) and BNZ Katherine Mansfield Awards in 2004 and 2001. Her short story collection, Deleted Scenes for Lovers, was acclaimed as 'note-perfect' (Spinoff) and 'intoxicating … self-assured, forceful' (Listener). In 2014 she established the literary journal Mayhem. She lives in Kirikiriroa Hamilton and teaches creative writing at the University of Waikato.