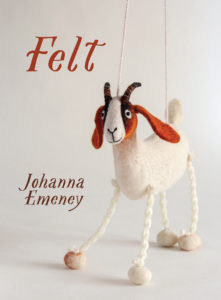 MEDIA RELEASE
FELT
Johanna Emeney 
Published by Massey University Press, 08 April 2021, RRP: $24.99
Tactile and inviting, Johanna Emeney's remarkable new poetry collection, Felt, is proudly published by Massey University Press in April 2021. The playful goat on the front cover, made by marionette-maker Olga Kupunia from the Republic of Georgia, captures its mood.
In Felt's 43 loosely connected, accessible poems, Emeney uses all her senses to explore the 'felt realm' — moments of surprising and intense connection between creatures great and small. Here, you'll meet couples in last chance therapy; friends unfriending; racist trolls lurking in the shadows; the regal calm of goats; the riotous beauty of nature.
A teacher with a love of animals and plants and a rich imagination, Emeney casts an empathic, searching eye on her subjects. Warm one moment, raw and disconcerting the next, her observations range from the flux of the seasons to human longing,
addiction and grief.
'There are poems about the things that we encounter through the senses — and not always actively. Poems about the sorts of experiences that are corporeal as well as emotional — that are physically moving. I wanted the title and the image to express
all those things,' says Emeney.
An affecting and elegant collection, Felt's suite of poems speaks to the complexity of human relationships and the immediacy of the natural world.
JOHANNA EMENEY grew up in rural North Auckland and has a Postgraduate Certificate in Education from Cambridge University. She taught at Kristin School and is now a senior tutor in creative writing at Massey University's Auckland campus, where she also gained her PhD. Emeney has published two other books of poetry: Apple and Tree and Family History, and academic book The Rise of Autobiographical Medical Poetry and the Medical Humanities. She was the editor of Poetry New Zealand Yearbook 2020 and co-facilitated the Michael King Young Writers Programme with Rosalind Ali for ten years. She lives on a lifestyle block in North Auckland with her husband and a menagerie of animals.