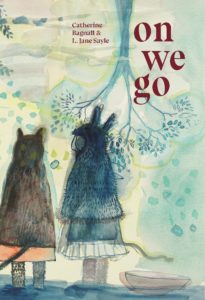 MEDIA RELEASE
On We Go
By Catherine Bagnall and L. Jane Sayle  
Published by Massey University Press, 11 March 2021, RRP: $35.00
An exquisite new book published by Massey University Press in March is the result of a long-time collaboration between artist Catherine Bagnall and poet Jane Sayle.  On We Go is a collection of 21 poems and 26 watercolour paintings, which grew out of their thinking about the natural world, sharing experiences in the different landscapes of Europe and New Zealand, childhood memories and thoughts about the crisis of climate change.
Some time ago, when Bagnall and Sayle were living and working on opposite sides of the world, they developed what would become On We Go through regular email conversations about the world's growing ecological crisis. When Sayle returned to
New Zealand from Munich in 2019, she and Bagnall started working towards a book about human connection to the earth. The beautiful small hardback that resulted is a treasure for enjoying in one sitting or for returning to on a regular basis.
The outdoor settings for the poems and paintings in On We Go range from gardens in Munich to the bush around Eastbourne, places where Bagnall and Sayle pause to notice birds on lamp-posts, snow-laden trees, warm pavements.
'The small animals and girls in rabbit suits in some of the paintings might be me standing in the trees, fitting in as wild and not human, being simply creaturely among the trees,' Catherine Bagnall says. 'I guess I am sharing my wonder and need for being among trees, for being outside or at least knowing there is this outside and how precious it is and necessary. It's like the feminist theorist Rosi Braidotti's phrase: "A new love for the world".'
Jane Sayle sees books that deal imaginatively with all kinds of ecological thought as having a practical function and that people increasingly have a desire to use every dimension of themselves to see the way forward, to help a planet in crisis, and to stay strong themselves. For her there is useful power in strengthening the personal imagination, to connect places, dreams and memories to the private world of feeling in acts of veneration that can be shared.
Sayle and Bagnall's hope is that On We Go will fuel a heightened awareness of being in and of the natural world, that readers
will feel the depthless energy that is a continuing legacy from childhood. This small hardback is an adult picture book to be
read aloud to all ages, a gesture of playful joy.
ABOUT THE AUTHORS
Catherine Bagnall is an internationally recognised artist who teaches at the College of Creative Arts Toi Rauwhārangi, Massey University. Her work focuses on performance practices and its intersection with dress.
Jane Sayle has been a dealer in curios and ephemera, an art writer and reviewer, and a lecturer in art and design history. After living in California, France and Germany for ten years she returned to New Zealand in 2019. On We Go is her first book of poetry.