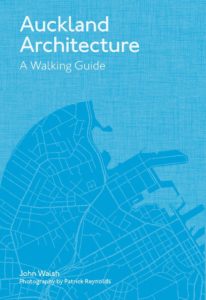 MEDIA RELEASE
Auckland Architecture: A Walking Guide (Revised)
JOHN WALSH AND PATRICK REYNOLDS
The little Auckland guidebook you shouldn't leave home without is back! The first edition
of Auckland Architecture: A Walking Guide was so successful that it sold out in 18 months.
Rather than reprinting, it's been updated with a fresh new design and the addition of 18
more buildings, taking the total to 65.
Through its pages, acclaimed architecture writer John Walsh takes us through 150 years
of the city's architectural history — from the Victorian era to contemporary structures.
As he writes in his introduction, "Auckland has grown substantially since the turn of this century, and the signs of this growth are evident all over the CBD . . . Auckland is also getting better at thinking about not just individual buildings — the old ones it has and the new ones it is getting — but about how they go together to make a city: one that is efficiently workable and, perhaps with this guide in hand, pleasurably walkable."
Walsh's five walking routes (close to public transport) fan out from the CBD, and his text delivers a mini lesson about different architecture styles. There's also handy maps, a glossary of architectural terms, architects' biographies and a list for further reading. Throughout, Patrick Reynolds' striking images jump from the page and animate the guide.
Auckland Architecture: A Walking Guide is invaluable for both born and bred Aucklanders and out-of-towners, all of whom seek a unique experience in the City of Sails.
ABOUT THE CONTRIBUTORS
John Walsh is the author (with photographer Patrick Reynolds) of several major books on architecture, including New New Zealand Houses, Home Work, Big House Small House and City House Country House. He lives in Auckland.
Patrick Reynolds is one of New Zealand's best architectural photographers. He lectures at the University of Auckland's School of Architecture and is a commentator on urban design and transport issues. Patrick lives in Auckland.
Published by Massey University Press, May 13, 2021, RRP: $25.00